In this month's Franchisee Spotlight Series, we are featuring Corvus of Chicago Franchise Owner Ms. Marcia Byrd. Read on to learn more about the standout Franchisee who goes above and beyond to Make Lives Better!
To keep up with the Franchisee Spotlight Series and all things Corvus, follow us on Instagram! @corvus_janitorial_franchising
Ms. Marcia Byrd, a Corvus Franchisee in Chicago, had quite the start to her business. She opened her franchise in April 2020 and by July 2020, she had already received the "Franchisee of the Month" award. Corvus of Chicago Regional Director, Dave Ronning, attributes Ms. Byrd's quick success to her positive attitude and reliability.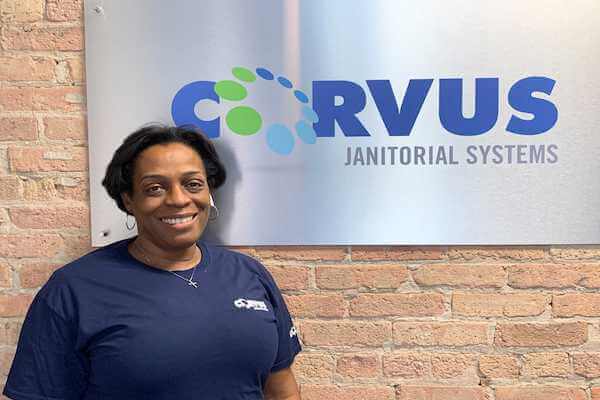 Ms. Byrd started off motivated and determined to begin servicing customers – and growing her business – right away. A large part of Ms. Byrd's achievements come from being a true team player. She realizes that a reliable and hard-working crew will help her Franchise flourish. A few of her family members have joined her business, and with their support, she now services four customer accounts – an impressive accomplishment given the short amount of time.
Not only does Ms. Byrd consistently provide high-quality services, but she also focuses on building long-lasting relationships with her customers. Ms. Byrds' communication and networking skills have empowered her to create a solid foundation for her business.
Ms. Byrd has spread the word about Corvus' franchise opportunities to several members in her community. Since beginning her business, Ms. Byrd has referred three additional Franchise Owners to Corvus. (P.S. – referring other Franchisees is a great way to add a bonus to your income!) Her enthusiasm and excitement show, and because of it, she has paved the way for others to succeed.
The Corvus Team would not and could not exist without hardworking and passionate Franchisees like Ms. Byrd. Thank you, Ms. Byrd, for all that you do! The Corvus community is grateful for your partnership and looks forward to growing together.