Commercial Cleaning Services
Our commercial cleaning services help your business and employees by delivering a safe environment during this critical time.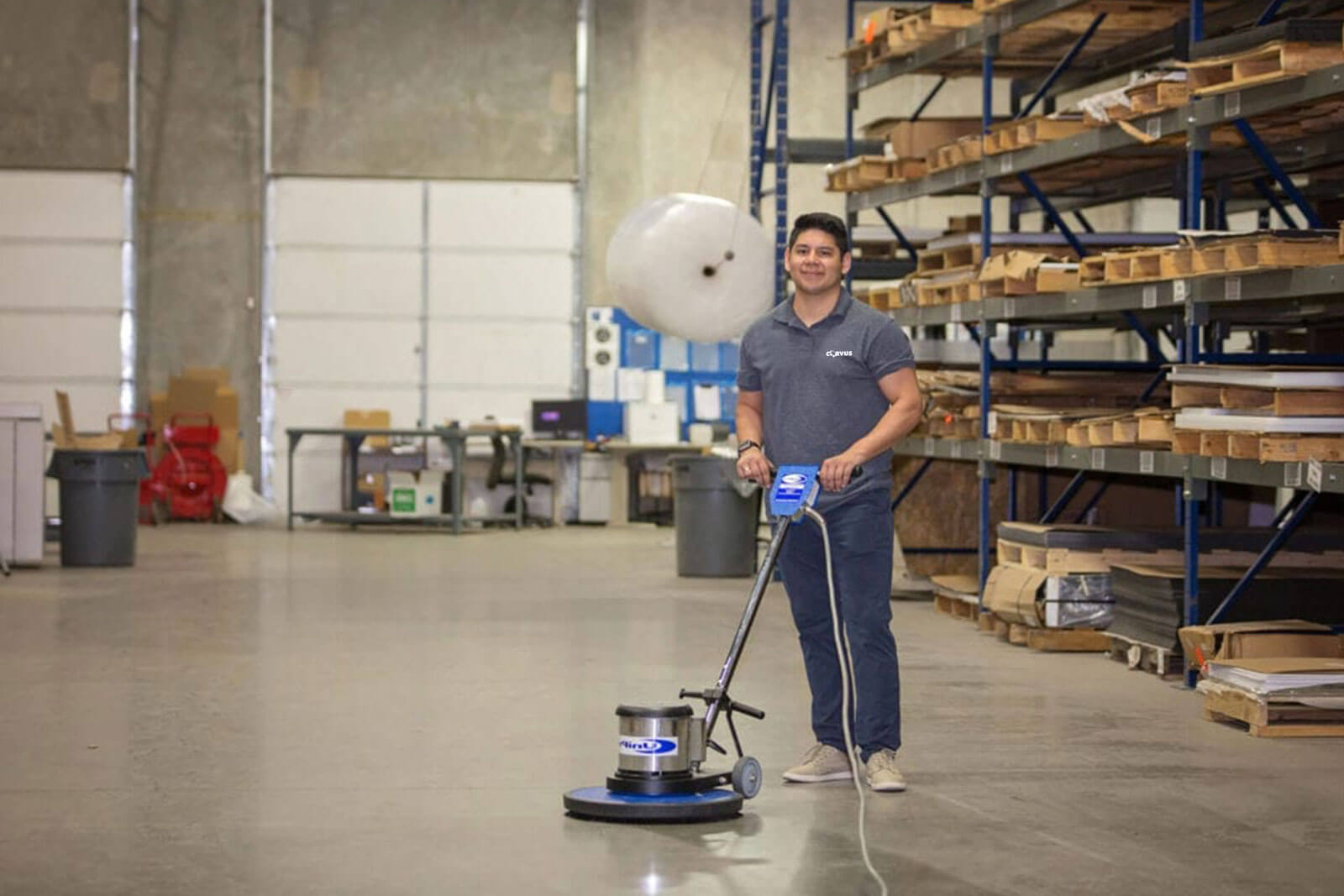 Thousands of companies across the United States trust Corvus Janitorial Systems for their commercial cleaning and disinfecting needs.
A clean workspace is a productive workspace. Studies show a direct link between workplace cleanliness and worker productivity.
Commercial cleaning services designed for your business
Each Corvus client receives a customized commercial cleaning program. We provide a thorough and customized quote for you to make the right decisions for your business. At Corvus, we are here to be your long-term partner.
See All Janitorial Services
Frequently Asked Questions
A typical cleaning schedule will include floor cleaning, sanitizing and wiping of horizontal and vertical surfaces (desks, ledges, tables), emptying of trash, sanitizing and disinfecting of restrooms, restocking of paper goods, and other general cleaning specifications.
A typical cleaning includes standard disinfection of high-touch and high-traffic areas such as desks, restrooms, and kitchens. Upon request, we also provide a multitude of high-level disinfecting services (read more about electrostatic sprayers, ULV fog machines and UV light irradiation). Corvus has your facility's needs covered. Contact your local support team to learn more about our office disinfection programs.
A deep clean ensures that every last centimeter of a workspace is thoroughly cleaned. The process typically involves moving furniture, mats, and other stationary objects to allow access to areas that are not addressed during a standard clean. A deep clean entails a scope of service above and beyond a regular, recurring clean.
The frequency at which your business should be disinfected is dependent on numerous factors, including your industry and the level of traffic your facility receives. Facilities concerned with infection control, such as doctors' offices, clinics, and schools, have benefitted from disinfection programs for years. The global pandemic has vastly increased the need for recurring disinfecting services in facilities of all types, particularly in workspaces with confirmed or suspected COVID-19 exposure. Additionally, essential businesses that remain open to serve the public should incorporate a recurring disinfecting program to ensure their employees remain healthy, happy, and productive.
Many factors impact the price of office cleaning, however the main drivers are:
Frequency - How often per week is your office cleaned?
Size - The size of your office facility impacts the length of time needed to clean the facility.
Environment - Traffic patterns, employee count and the like also determine wear-and-tear or daily soiling, which in turn impacts pricing.
Materials - Varying material types (such as carpeted floor versus hardwood floor) require different cleaning techniques, which potentially impact service time or cleaning material requirements.
Because of the factors listed above, ideally, a Corvus representative will meet with the teammate that selects your cleaning vendor in order to observe the facility, ascertain expectations and needs, and to measure your facility. From there, Corvus will turn a quote for cleaning services around within 24 hours.
Generally speaking, $235.00 per month is our minimum pricing, with no less than one time per week service. However, certain local markets may have slightly varying minimums.
Yes, customers frequently ask for additional services or frequency of specifications, which simply requires an amendment to the scope of work. Additionally, Corvus provides "one-time" services such as stripping and refinishing, carpet cleaning or impact cleans upon request. We also provide a multitude of high-level disinfecting services including electrostatic sprayers to ULV fog machines to UV light irradiation.
We can start tomorrow. Let's chat.