Corvus is excited to introduce the "Franchisee Spotlight Series" to our blog. Every month, we will be highlighting Franchise Owners who go above and beyond To Make Lives Better. This month on the center stage is Franchise Owner Donald Valdery.
To keep up with the Franchisee Spotlight Series and all things Corvus, follow us on Instagram! @corvus_janitorial_franchising
Franchise Owner Mr. Donald Valdery started his cleaning business in May 2020, and he has already made a noteworthy impact in New Orleans. In just seven months, Mr. Valdery has brought consistency, attention to detail, charm, and a positive attitude to the New Orleans market.
Mr. Valdery is incredible at meeting new customers and taking control of the initial walkthrough. He sets realistic expectations with his customers on what will be accomplished in the first few months and explains that it will take some time to reach his high standards. Corvus of New Orleans Regional Director, Tommy Petagna, said that when joining Mr. Valdery on initial walkthroughs, "I keep my mouth shut, take a back seat, and let him do his thing."
One of the many notable things about this standout Franchisee is his keen attention to detail.
Mr. Valdery is extremely persistent- always sure to follow through on whatever it is that his customers need. In fact, his performance is so stellar that a customer personally called the Regional Director to say what a phenomenal job Mr. Valdery is doing and how impressed their office is by his terrific work ethic.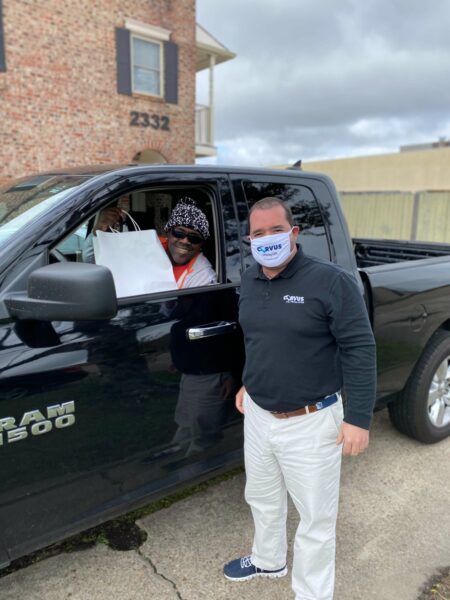 Mr. Petagna and Mr. Valdery have known each other for the past five years and have a deep, mutual respect for one another. The Regional Director describes Mr. Valdery as a true partner- to himself and Corvus at large. Corvus of New Orleans attributes the standout Franchisee's quick success to the deep pride he takes in his work. Since starting his Franchise, Mr. Valdery has taken on five days per week accounts, as well as helped Corvus expand their presence in the North Shore area of New Orleans.
Mr. Valdery has a huge heart and a smile that lights up the New Orleans office every time he comes in. At least once a month, he touches base with the New Orleans team to discuss his goals and how he plans to achieve them. Mr. Valdery has plans to do big things with his business, and the Corvus team has no doubt that he will do just that.
On behalf of everyone at Corvus Janitorial Systems, thank you Mr. Donald Valdery, for your hard work and dedication to your business. We are all so, so grateful for what you do!