Responsibility as a Community Member
The Corvus Team is committed to continuing our cleaning services and living up to our mission now more than ever: making lives better. As a company – and a community member – we will be keeping an open, consistent dialogue with our customers and franchise owners as the situation with the Coronavirus unfolds nationwide. It is constantly evolving, as is our response, and we are staying up to date on all information available throughout our different geographic locations.
Our team is working diligently to step up to the challenge that COVID-19 presents to both the business community and the safety of individual members of our society. We encourage everyone to be responsible and use their best judgement. By practicing good hygiene, washing hands consistently and often, avoiding touching our faces, and practicing social distancing, we can all do our part to limit the spread of the virus.
Office Disinfection Services
Disinfection Applications for COVID-19
From the outset of the COVID-19 breakout, Corvus has been standing on the front lines cleaning, disinfecting, and sanitizing facilities whose operations are so central and important to the communities we serve. As we enter the next phase of addressing the pressing problems associated with the virus, Corvus Janitorial Systems remains proactive, innovative, and committed to our mantra of helping organizations and individuals, doing so through the implementation of the Corvus Disinfecting Program.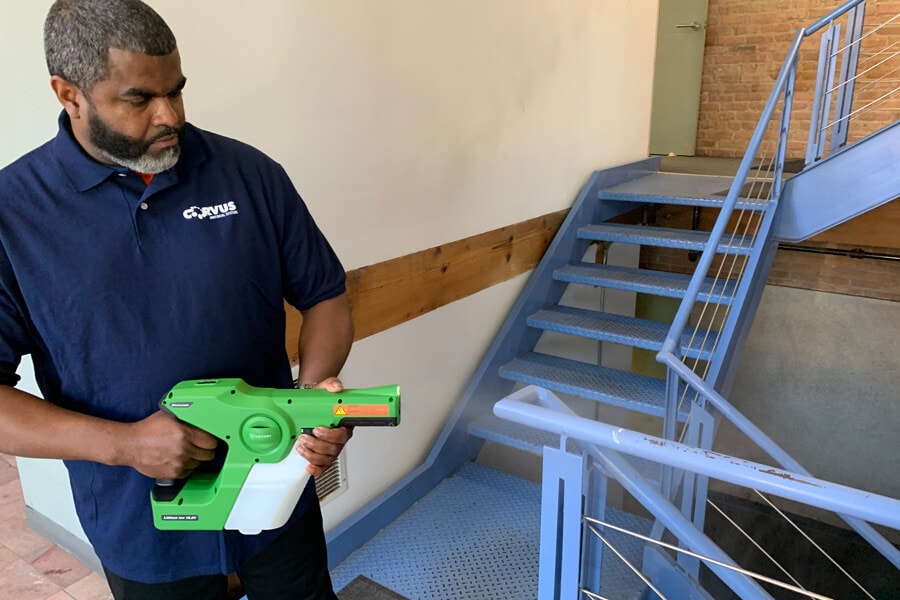 Disinfecting and Cleaning Protocols
It is important to highlight the difference between general cleaning and disinfecting. During a general clean the intent is to remove dirt and dust. This step must be completed before disinfection because germs can lurk in grime and soiled areas. Once an area is clean, it can then be disinfected. Typically, disinfecting happens only in restrooms and dining areas, but with COVID-19, disinfection of all areas using commercial grade chemicals is a critical factor in helping to curb the spread of the virus in our communities.
We are taking active measures in our services to help combat coronavirus. All touchpoints such as door handles, phones, light switches, faucet handles, countertops and stair bannisters receive disinfection, along with all hard surfaces. Similar to other viruses, Coronavirus can live on different surface types for varying amounts of time. For example, recent facts reveal that the virus can live on metal surfaces for up to two weeks. These high-risk areas require extra attention in the current climate.
We assure all of our stakeholders, Corvus is committed to providing top-notch service to combat the virus.