March is Women's History Month, and in celebration Corvus spotlights women from all facets of American life. Read on to learn more about these four extraordinary women and their contributions to United States history.
Sybil Ludington 4/5/1761 – 2/26/1839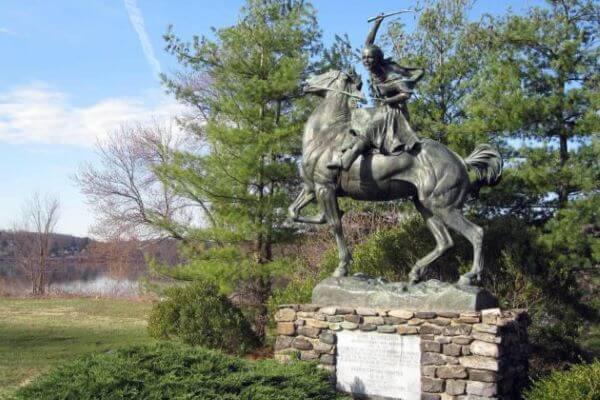 Our first Women's History Month spotlight features Sybil Ludington- a heroine of the American Revolutionary War.
Many of us may be familiar with Paul Revere's story, but the story of this brave, 16-year-old is seldom told. Sybil Ludington was the daughter of Colonel Henry Ludington, a New York militia officer. On April 26, 1777, a messenger arrived at the Ludington household to warn Colonel Ludington that the British were planning an attack in Danbury, Connecticut- the location where all the weapons and munitions for the Continental Army were stored. As her father began organizing the local militia, the 16-year-old girl got on her horse and rode through the night.
Ludington completed her journey at around sunrise- covering 40 miles (over twice the distance that Paul Revere had ridden) and warning nearly 400 men. It is even known that Ludington fought off a highwayman with her father's musket! The British still raided Danbury, however, the Patriots successfully drove them back to New York thanks to Ludington's fearlessness. Colonel Ludington later wrote in his memoir: "there is no extravagance in comparing her ride with that of Paul Revere and its midnight message…by daybreak, thanks to her daring, nearly the whole regiment was mustered before her father's house at Fredericksburgh."
Grace Hopper 12/9/1906 – 1/1/1992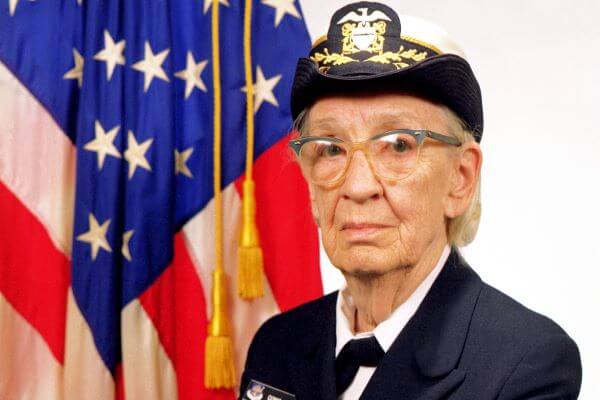 Rear Admiral Grace Hopper was a pioneer in both computer science and the U.S. Navy. She is best known for developing one of the first computers.
After graduating from Vassar College with degrees in mathematics and physics in 1928, Hopper received her master's degree in mathematics from Yale in 1930, where she went on to complete her Ph.D. in mathematics and mathematical physics. After the bombing of Pearl Harbor, Hopper set out to join the war effort. She was originally rejected due to her age and small stature, but with much persistence, Hopper joined the U.S. Naval Reserve (Women's Reserve) in 1943 at 37-years-old. There, she was assigned to the Bureau of Ships Computation Project at Harvard University, working alongside two other men to develop the IBM Automatic Sequence Controlled Calculator, more commonly known as the Mark I. Hopper was responsible for programming the Mark I and wrote the 561-page user manual as well. While the Mark I made Hopper a household name, many consider her creation of the compiler- a program that translates programming code to machine language- to be the most impactful contribution to computer science. When she retired from the U.S. Navy in 1986, at age 79, Hopper was a rear admiral as well as the oldest serving officer in the service.
Now admiringly regarded as "The Queen of Code", Hopper's trailblazing contributions in computer science and the U.S. Navy, both male-dominated industries nonetheless, changed the world. She later said that her greatest joy came from teaching, which she passionately pursued until her death in 1992.
Gertrude Ederle 10/23/1905 – 11/30/2003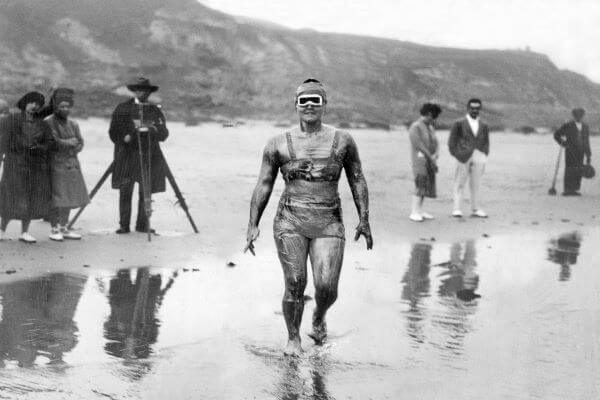 Gertrude Ederle was a competitive swimmer, Olympic champion, and former world record-holder. In 1926, Ederle became the first woman to swim across the English Channel.
Growing up swimming at her family's beach house in New Jersey, Ederle's love for the sport came at an early age. She left school at 16-years-old to join the Women's Swimming Association and train as a competitive swimmer. Ederle competed in the 1924 Olympics in Paris, where she won three medals- one gold and two bronze. By the age of twenty, Ederle had set twenty-nine world records.
After the Olympics, the champion swimmer had her sight set on the English channel- the ultimate test of endurance. Ederle was determined to be the first woman to complete the twenty-one-mile swim between England and the European mainland. Her first attempt in 1925 ended in disqualification when her coach, following behind in a tug boat, touched her shoulder to warn her of a big wave approaching. Ederle was frustrated but certainly not defeated. The following year Ederle swam from France to England in 14 hours and 39 minutes- over two hours faster than the five men before her.
Ederle was forced to retire at the young age of twenty-five after becoming deaf. In her fifties, she opened a swimming school for deaf children in New York City, where she taught for the majority of her remaining years.
Sally Ride 5/26/1951 – 7/23/2012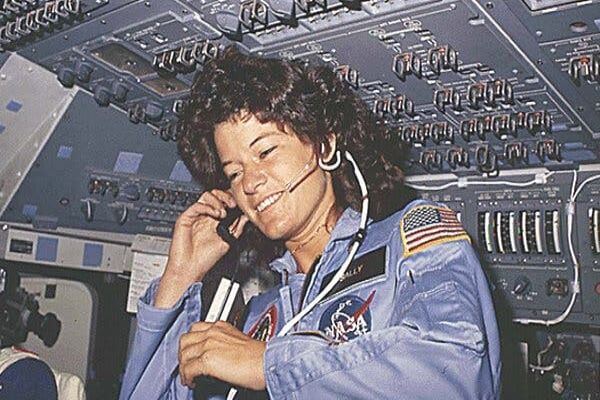 Sally Ride was an American astronaut and physicist. In 1983, she became the first and youngest American woman in space.
A California native, Ride received a BS in physics and a BA in English from Stanford University in 1973, where she later went on to earn her Master of Science and doctorate degrees in physics. In 1977, Ride answered a newspaper advertisement placed by NASA looking for young "mission specialists" to serve on future space flights. At this time, NASA was recruiting women and minorities to join the class of '78. Ride's background in science, alongside her athletic ability (she was a nationally ranked tennis player growing up), made her the ideal candidate for the mission.
On July 18th, 1983, Ride was amongst one of five crew members aboard the space shuttle Challenger STS-7. The press challenged her accomplishment, asking her questions like "how do you think your female organs will respond to the space environment?", to which she replied "it's too bad this is such a big deal. It's too bad our society isn't further along."
While Ride is remembered for her contributions to space, many will say her legacy was the work she did in education. She was particularly passionate about inspiring young women taking interest in science, technology, engineering, and mathematics (STEM). She published five educational science books and co-founded a non-profit organization, Sally Ride Science, to advance science education.
More Than a Month
Innovative, intelligent, and strong-willed- it is trailblazers like Ludington, Hopper, Ederle, and Ride who pave the way for generations to come. Let March serve as a reminder to celebrate the integral role women continue to play in US history every day, week, and month of the year.